Feb
15
Fri
The Fundació Suñol inaugurates a new era
Feb 15 @ 12:00 pm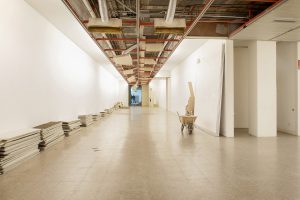 The Fundació Suñol is pleased to announce that at the end of 2019 it will inaugurate a new space in the Les Corts district of Barcelona, with the aim of continuing to support artistic creation and its advancement, along with raising the visibility of the Josep Suñol Collection, specialised in contemporary art.
The new space will house the headquarters of the Fundació Suñol and the Fundació Glòria Soler, this latter created by the philanthropist and Josep Suñol Soler in 2015, with the goal of promoting programmes of solidarity in the fields of art, health assistance and scientific research.In this new era both foundations will work jointly in projects of art and citizenship.
The Fundació Suñol is moving to Galeria 2, a historical site which housed the Josep Suñol Collection in the 1980s. In this space, various events in the field of contemporary art were organised in the 1980s and 1990s, playing a vital role in the creation of Barcelona's cultural fabric. The space also provided temporary studio space for various artists whose work is now part of the collection. The Fundació Suñol has now decided to raise the profile of this historical location, which is largely unknown in the present.
The new headquarters will feature a versatile exhibition gallery of 220 m2 along with a space to consult the extensive library that Josep Suñol has put together since he began his trajectory as a collector in the early 1970s, which at present has some 10,000 entries. The new location of the Fundació Suñol will also have a multiuse space for the organisation of workshops, lectures, presentations and other activities.
The main line of activity will continue to be the support of contemporary creation by encouraging the production and organisation of temporary exhibitions on subjects, artists or projects related to the collection and the foundation's geographic vicinity, prioritising proposals of interest, rigour and quality, with a correspondingly broad take in the representation of styles, techniques and generations. In this new context, moreover, emphasis will be placed on parallel, social and educational activities conceived for a diversity of publics and in dialogue with a myriad of agents.
The team of the Fundació Suñol is currently working on the programming of exhibitions and activities for this new stage. In upcoming months, the 2019–2020 programme will be presented, along with a projection of the inauguration dates for the foundation's new facility.