Dec
15
Sat
Guided tours: ACTE 40: Sinéad Spelman. Descanso en la huida
Dec 15 2018 @ 6:00 pm – Jan 10 2019 @ 6:00 pm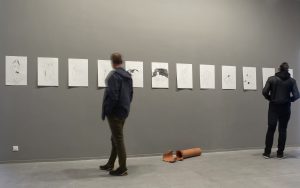 The Fundació Suñol organizes two commented tours for individual audience to the exhibition ACTE 40: Sinéad Spelman. Descanso en la huida, the last project from irish artist for Nivell Zero.
UPCOMING DATES
Saturday September 15th at 18 p.m → Catalan
Thursday January 10th at 18p.m. → Spanish
Limited capacity. It is essential to book by phone (934 961 032) or e-mail (info@fundaciosunol.org).
This guided tours are offered in Catalan or Spanish. If you want to do a guided tour in English, do not hesitate to contact us to arrange a date at info@fundaciosunol.org